Clients need to design a custom glass bottle and source the expert custom glass bottle manufacturer to transfer the concept to a commercial bottle, although the existing glass bottle shape, capacity and closure can cover majority packaging need in most industries.
Why need custom glass bottles
To meet some unique functionality
For example, coconut oil is a white solid fat, melting at warmer room temperatures of around 25 degrees Celsius. In summer months coconut oil is a clear liquid oil. Due to this characteristic, the best way to contain coconut oil is glass jar or a glass bottle with big mouth.
Green traditional Dorica or Marasca glass bottle is usually best for Olive oil package. The bottle is tall. When there is restriction of shelf height, clients have to design a bespoke stout shape for show.
Another example clients need to change the traditional shape with larger glass bottler mouth for putting pills into the bottle, so need to design a liquid teeth paste glass bottle with bigger mouth diameter.
To make the products outstanding, build brands
Some market served by glass bottle, the profit margin is large including perfume, liquor, whiskey, vodka, and candle holders. The investment of designed glass bottle is not expensive. The initial cost of the mold will be added to the first branch production costs. It is just one time investment. A designed glass bottle will enhance your brand value, attract your target customers, then increase your profitability by increasing the market shares.
Option for custom made glass container
Glass bottles
Glass jars
Decoration design like silk printing, decal, spray, frosted and labelling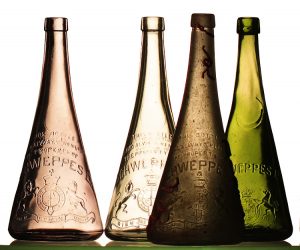 By opening a new mold, the special unique shape can be achieved like diamond shape, pure square shape, disc shape, flask shape, shoes shape, slim, thin shape, stout shape, ball shape, with embossed logo or embossed patterns.
Where can I buy a custom glass bottle
Explore some top custom glass bottle manufacturers in the world
MC Glass Bottle is top custom glass bottle manufacturer that manufacturers and supplies glass bottle design, providing decoration opportunities to avoid bottle defects or potential quality issues.
The professional design team, inhouse mold factory, proven process will assist custom to achieve a unique custom glass bottle by communicating with our sales.
Not only a custom glass bottle can be made in MC Glass Bottle factory, the glass bottle caps, lids, closure, cork, and the accessory are also provided, which will save the clients' time and money.
How glass bottles are manufactured
1) Combine all the raw material soda ash, limestone, silica sand and cullet into a batch, mixture the combination and transfer them to the furnace.
2) Melt all the combined raw materials to 1560 degrees Fahrenheit, creating a liquid glass mixture.
3) Cut the molten glass into "gobs" when the liquid glass mixture cooled to uniform temperature.
4) Deliver the glass gobs into molds within the IS forming machines where they are blown into containers.
5) Anneal the glass bottles. An annealing oven, also called a lehr, can be used to reheat and cool glass containers to rectify stress.
6) Inspection. Inspect the formed glass containers, reject some with defects and ensure the qualified glass bottles to shipping process.
7) Packing and shipping. After inspection, the finished glass containers are packed into pallets or put into cartons then ready for shipment to customers.
How to manufacturer custom glass bottles
Knowing how to make a glass bottle then it is easy to identify the most important process to manufacture custom glass bottle is to make unique glass bottle molds.
Let us list the process to make your custom glass bottle step by step
1) Collet the bottle idea no matter based on a concept or an existing glass bottle.
2) Design and make your custom glass bottle drawing including some measurement the capacity, closure design, surface artwork and other factors.
3) Make the drawing of custom bottle's mold
The mold drawing will display the bottle's weight, height, diameter, angle, and all key measurement.
4) Glass bottle sample setup process.
5) Custom glass bottle manufacturing, packing and shipment.
What can I do with my custom glass bottles (the application of custom glass bottles)
1) Food and beverage industry used to hold wine, liquor, vodka, whiskey, and beer. There are also glass milk bottles, juice bottles, Olive oil glass bottle, soda bottles, water glass bottle and cold brew coffee bottles.
2) A custom glass jar can hold food ingredients, hot sauce, jams, honey and spices.
3) Hold medicine, pill, tablets, cosmetic, perfume, essential oils and creams
4) For laboratory, spray bottles
5) Glass vials, candle holder and glass vases.
Minimal order of a custom glass bottle
Normally for less than 100ml capacity clear glass bottle, moq is 50,000pcs.
Moq is 30,000pcs for clear glass bottle capacity 250ml plus.
Moq is 12,000pcs for flint glass bottle capacity 500ml plus.
The price will be cost effective when the ordering number is a full container's loading numbers no matter for 20 feet, 40 feet or 40HQ container. It is due to together with the shipping cost, client can get the final cheapest unit price when glass bottle in the hand.
Please notice amber, cobalt blue glass bottles which are suitable for beer, Olive oil, medicine and other contents sensitive to light need large MOQ for a designed shape. And cobalt is rare material and thus is expensive to use in manufacturing. There are not so many glass bottle factories to produce original cobalt blue glass. Also clean the blue color out of the machines is cost time and money. So, the cobalt blue glass bottle is more expensive than clear glass bottle.
Clients need to source smartly before buying a custom glass bottle and make sure the glass bottle factory has capability of innovation, flexibility, effective communication, and well-equipped plant.
MC Glass Bottle has over 20-year experience in glass bottle making industry, knowing how to save the direct raw material cost, and improving real productivity. The daily output bottle is over 300,000pcs.
For inspection, we do what we write and write what we do. Every batch glass bottle can be tracked in paper.
Sustainability
Glass bottle is nonporous and impermeable. There is no chemical leaching that would endanger consumers or affect the taste of the contents in the container.
Glass bottle can be recycled and reuse again and again. Glass bottle factories success to use natural gas as main power and design light weight glass container to decrease the transportation and shipment costs.
A custom glass bottle can be unique craft, attracting your target consumers to buy the product packed in it. That what kind of material you choose for packing will express you too. To be sustainability to make people think about this generation, our generation and most importantly the future generation.
Maybe if we make small changes collectively, we can eventually make big changes together. Let choose glass bottle and go green.