Where To Find Custom Juice Bottle Manufacturer?
Do you want to revolutionize your custom-class juice bottles and improve your business and boost your sales by making the juice bottles quite attractive and unavoidable for the customers? Then you should conduct deep research on glass juice bottle shape and size options as well as the glass juice bottle design ideas that you can incorporate into your customized setting.
Here in this article, we are also going to discuss top custom juice bottle design ideas that you and your customers will love. We have discussed various possible options and you can choose the ones that suit best your unique needs.
Why Custom Glass Bottles ?

Custom glass bottles have long been used for branding, marketing, and advertising initiatives. Typically, businesses utilize personalized glass bottles to boldly write their company names. Additionally, it is feasible to leave the custom glass juice bottle basic so that the materials' colors and contents can be highlighted and made more obvious.
Individuals and enterprises should also consider creating sophisticated custom glass bottles, especially if the contents are nourishing and nutritious. Moreover, alternative labels that detail more on the contents of the bottles that make it incredibly simple for buyers to choose what to buy can be placed on various-sized custom glass bottles. Therefore, you should use custom glass bottles if you want to express your creativity and describe the brand of the products within the bottle in your own unique style.
Popular Juice Bottle Shapes and Size Options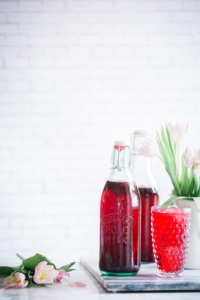 When choosing the best form and style for your juice glass bottle, there are several factors to take into account. On the internet, there are numerous possibilities for glass juice bottles. We can even categorize them, and each type of bottle comes in a range of sizes and styles, such as simple or decorative, round or square, etc.
Choosing the best shape for your product is a huge decision, regardless of the style, shape, and design you want to use for your juice glass bottle. Before deciding which form is ideal for your line of juices, take into account your promotional objectives and overall style and design.

The use of a square juice bottle signifies your decision to embrace a more recent design and shape. In a crowd of juice bottles, it can help your product stand out.
Being easier to arrange than their spherical cousins, they might seem more attractive on a shelf.
As this form has not yet been adopted by too many glass juice brands and is somewhat uncommon, a square-shaped container can also help consumers recognize your brand right away. They are simple to load into shipping boxes due to their constant shape and compact size. They also take up less room in a cooler or refrigerator.
With square bottles as opposed to round bottles, hand-labeling also becomes a far more convenient and straightforward process.
Here it is important to mention that round and square bottles are just the primary designs. Now various other designs of glass juice bottles are also available. For example, conical-shaped bottles, and moderately square, oval, and rectangular-shaped glass bottles are also common. However, they are not handy to use and can be broken easily. Due to this reason, the most trending ones are the square and round shape bottles that are not only the traditional designs but also fit best to the contemporary structure.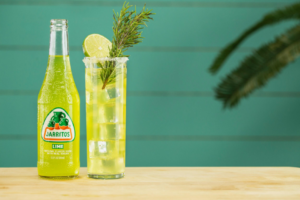 It is not a terrible idea to take into account this type of glass juice bottle design for your brand as round juice bottles are the conventional choice for many juice brands. It would be accurate to say that they are easier to use than square bottles. Additionally, various manufacturers accept the fact that they are easier to label mechanically, and their consistency makes it possible to apply labels anywhere without worrying about the sides. You will love the high level of comfortability that you will feel when you hold them in your hands.
Small round juice bottles may be easier to grip than square bottles if juices are marketed primarily to children.
Most cup holders, including those in cars, on backpacks, and in baby strollers, are shaped to fit round bottles.
But when it comes to selecting a bottle's shape, we mostly have two choices: square or round bottles. Consider both possibilities and choose which will benefit your business the most. You can think about employing round bottles if your branch is focused on offering juice to children. On the other hand, if you produce beer or any other drink for seniors or fitness enthusiasts, you can utilize a design that is portable and has a slim profile for use while traveling.
Custom Juice Bottle Design Ideas
Text & Graphic Combination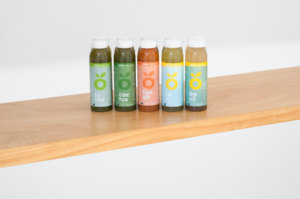 Various companies make the best use of text and graphics so that they can represent the contents of each vessel of glass more creatively and uniquely. Juice has long been a mainstay of our diet, therefore using both images and text on the juice bottles seems like a chic and educational concept. As more and more businesses look to their juice bottle designs and labels to stand out in the crowded market, they can gain an advantage by making the juice bottles as informative as possible. This is especially true if they are producing juices for health-conscious consumers who are concerned about the use of beverages and their effects on their health. Juice brands have a variety of ways to represent themselves with the names of the juice, the color of the labels, and the size and form of the bottles. They can use a lot of ingenuity when mixing graphics and text at the same time on the labels.
Matte finish with frosted texture and an opaque material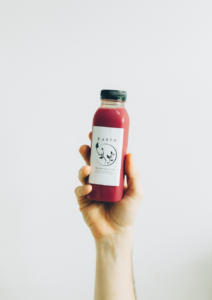 Before you start to think about the appearance of This Mejeri, you won't understand the significance of mate finish with an icy texture. You'll want to move forward with the packaging after giving this glass juice bottle design idea some thought since you'll see how distinct it is from the packaging of the majority of bottled beverages. To provide a high-gloss shine, drink flasks are often given a smooth polish. The polished surface has a stunning texture that you won't soon forget in addition to looking quite fashionable.
Randi Sjaelland was the first to present this design concept. Its soft matte finish, made possible by a glossy texture and an opaque substance, has immediately attracted the attention of glass juice bottle manufacturers and consumers. The vibrant colors you see have now been artificially added to describe the different dairy beverages' fruit flavors. By doing this, the user appears to use his senses to determine the juice's flavor before opening the top.
Both the logo and label's cursive typeface and the distinctive glass bottle shape are attractive throwbacks. In a modern manner, the packaging for Mejeri is visually appealing. It can differentiate itself from the other conventional, unoriginal glass juice container design concepts. Try it at least once to see how you may beautify your glass juice bottles with a more simple design and vibrant individuality.
Jewel-toned Juice Bottles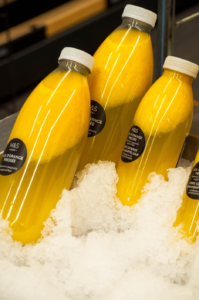 Juice firms that specialize in organic drinks were the first to use jewel-toned glass bottles. They not only cared about the juice's quality and used only the best ingredients, but they also used this original idea to give the juice bottles a distinctive look and feel. These bottles were the ideal option for those who value nature and their health because they are free of synthetic chemicals and additives. Your personalized glass juice bottles can also feature this lovely pattern. It would be fantastic if you also use natural ingredients and make jewel-toned packaging that highlights the product's natural attributes.
The phrase "jewel-toned" simply refers to a sheen and texture that only vaguely resembles expensive, gleaming jewelry.
The font must be carefully chosen because it has a significant impact on this design and can entirely change the overall aesthetic. You can choose a modestly sized font to indicate the company name, but don't forget to prominently list the ingredients as well.
Conclusion
When you utilize your creativity, see what other brands are adopting, and go with the most unique yet stylish design ideas, you can easily beautify your custom glass bottles and give them the most stylish look. It is all about thinking innovatively and focusing on what the customers want and what can give them the most refreshing feeling while using custom juice bottles. However, the most important thing is to incorporate informative content in the design so that you can make juice bottles more informative and useful for the customers. It is a great way to attract health-conscious and fitness expert people towards your brand which will definitely add to your brand's credibility and reliability. So it would be right to say that properly designed custom glass juice bottles have the potential to attract the customers and boost the sales.
Do implement the unique custom glass juice bottle design ideas and enjoy more profitability.