Custom glass water bottles are attractive, strong and durable, no leach harmful chemicals. Working together with custom glass bottle manufacturer to design personalised glass bottles for your own project will maximise your profit by reducing pricing.
A fast and fancy way to create customised glass water bottle is using our existing bottle template which covering swingtop bottles, 500ml glass water bottle with SS. caps and Borosilicate material water bottles. To add a printed all round the bottle surface or just a branding logo is great ideas. Some companies are using custom printing water bottles for promotional way or stiving for sustainability.
In this blog, we will list some case studies with different custom glass water bottles for unique purpose.
Custom swingtop bottles for Hotel Client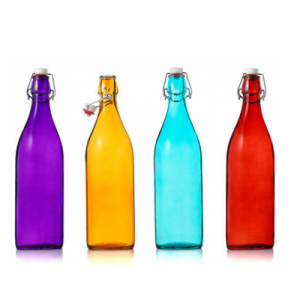 Swintop bottles as classic glass water bottles due to easy open and close, filling many times and holding sparking water inside. The existing swing top bottle sizes 250ml, 500ml, 750ml and 1 litre, both sqaure and round shape available.
Glass is non-porous, so it does not absorb anything from the liquids you put in it. Which means you will get a great taste every time. Clients from resort hotels choose those traditional flip-top bottles filling still water or sparking water and putting the water bottles on the table as a beautiful furnishing decoration. Those custom water bottle with hotel branding and multiple filling can enlarge the branding recognization also save its own operation costs.
Custom water bottle with branding logo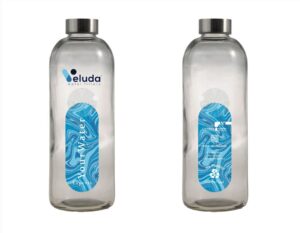 For promotional usage, well-designed glass water bottle showing a heathier, tastier and more environmental way to drink. Some companies related to water tends to choose glass water bottles as gifts since the bottle itself not so expensive but environmental friendly.
High-end custom glass water bottles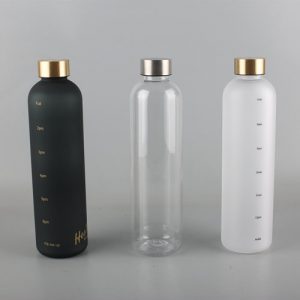 If nomal flint soda lime bottles cannot meet your requiryment, our extra flint glass water bottles will exceed your satisfaction. MC Glass provide pure and crystal VOSS water bottle with liquor and cosmetic materail. We welcome your innovation design and new development concept discussion.
Borosilicate glass water bottles are more hard not easy to broken, with bamboo caps and silicone sleeve are in popular for many years.
Custom-mold glass water bottles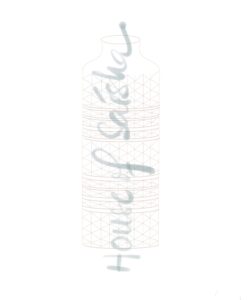 Creating a unique custom glass water bottle with special texture and pattern is a great idea. Every people need to drink sufficial water to keep healthy, so the potential buyers are large population. Embossed logo can be added on the bottles' surface, bottom and bottles' shoulder. With different surface texture, an attractive glass bottle can reflect hosts' aesthetic taste.
For example, your glass water bottle will remain crystal clear when you add lemons, oranges, and other your favourite fruits. Wonderful drinking containers will give you happy mood and taste better.
How to design your own glass water bottle?
The best way to begin the design process is based on market trends and select your desirable bottle designing. There are many factors you need to take into considerations, like bottle shape, bottle capacity. On the glass container packaging market, the options are limitless. In order to make a unique, strong and recognizable glass product, creating the proper bottle concept is the first step for customization.
Design a special bottle shape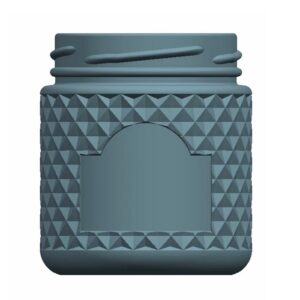 When you utilize a non-standard form on your bottle, it increases the likelihood that it will attract the attention of someone walking by as they see it. Numerous product labels are formatted in a conventional manner, typically taking the form of a rectangle or a circle.
Take into consideration the form that your package or container will take. Always check to see if the form corresponds to what you're putting out there.
If it is too large for the container, the label will start to peel, crack, or fall off. If it is too small, the label will not fit correctly and will fall off. Therefore, it is not worth it to use an odd form if it does not suit your container well.
One of our client want to design a customized glass water bottle, with diamond and crystal bottle surface. This brand owner believes that the embossed diamond surface are luxury, special feeling, which will shiny their water of high quality and new tastes.
Take feasibility into consideration
As custom glass bottle manufacturer, MC glass have developed many special custom glass bottles from initial bottle designs to quality glass products. Keeping the design simple is important. Many brand owners want their glass bottles very special shapes but taking feasibility and function into consideration will ensure the success of the custom bottle project.
You do not want people to have to strain their eyes in order to determine what is included in the container. If you make your custom bottle design to complicated for customers, they may seek elsewhere for a brand to purchase.
Consider the Timeline of custom glass bottles
For brand owners who desire custom glass bottles, it is important to take the timeline of custom bottle into consideration. Creating custom glass bottle project is a time cost, which should be considered well in order to catch the new product launching. No matter how fast a company wants to create its custom-made bottles and get them out on time, certain processes must be followed.
For example, this client wants to design a unique glass bottle for water drinking, the production cycle consists of multiple stages starting with the design stage, pre-production stage, mass production stage, printing and labeling stage, packaging and shipping stage and others.
Know your market
Investigating your end-consumers and taking the market is crucial step for your business success. If you're looking to sell your drinking water in a specific region, you may want to consider choosing capacity that are popular in that area. For example, if you're creating a glass water bottle for sale in Asia, consider using 250ml and 500ml bottles because those bottle sizes are commonly used in Asian design and packaging. On the other hand, if you're selling your water in America, it might be best to stick with larger water bottle sizes and wide glass water bottle mouth will be preferable.
Using decorations
We make new shape glass bottle, which will help consumer to recognize the product and purchase more. A new shaped glass bottle can tell a story, the company's values as well as the necessity to bring something new, to create, to innovate. Apart from the special shaped glass bottle design, using attractive decoration and labeling for your customized bottles will reinforce brand loyalty. At MC Glass, The decoration processes are embracing, ink screen printing, coating, acid-etching, metallization and sandblasting. Our customization specialists proceed sophisticated decoration using complextiy of techniques like acid-etching finish, multuple color screen printing, golden or silver hot stamping that fit together.
How to develop your custom glass bottle step by step?
Step 1: Listen your design ideas and confirm the bottle concept
As custom glass bottle manufacturer, MC glass is specialized in working with client's custom glass bottles from initial design concept to quality customized products. The best way to begin the design process is based on market tendency and which style you prefer.
Step 2: Make the bottle technical drawing
Based on listen and address your branding identification, our designing team will make the bottle drawing for approval. Once we got your idea or art drawings, we will develop the mold drawing listing all the measurement for your approval.
Step 3: Create bottle mold
With bottle drawing approval, our in-house mold factory will start to make the bottle mold. Good quality mold can make the mold durable and during mass production the surface of bottle will have better appearance.
Step 4: Setup samples for quality test
After the mold making, some clients need to order a real physical sample. It is not advised to order samples unless you plan to purchase large volumes of glass bottle. The final effect can be checked by making glass samples. After the glass samples meet customer requirements, mass production of glass bottles will begin.
Step 5: Do mass production
After confirming that the sample is perfect, our excellent and fast production team will finish mass production with high quality.
Conclusion
Nowadays, almost every business owners that would like to develop its own glass bottle packaging version to show its unique angle and life taste. Searching your professional custom bottle manufacturers is a great resource for any business that is looking to package its product.
MC Glass are expert to creat your dream custom glass water bottle from visions to commercializastion. Contact today!