MC Glass is top glass jar manufacturers and jar making company from 20 years ago. We wholesale custom glass jar packaging for canning and storage. We are glass jar vendors supplying round square and hexagonal jar for jam honey packaging, food storage sector and beauty industry like cream. The top of glass jar are various. Screwed metal caps, lug caps, stainless steel lids, flip top glass material cap and plastic cap are available. No matter you source custom made glass jars packaging or looking for buck glass jar orders, please contact us today for a free quote! 
MC Glass, custom glass jar manufacturers
Looking for glass jar factory made custom glass jar for wholesale packaging? Review us to find wide range glass jars your need! Whether you are a professional in food beverage sector, running e-commerce store or glass jar designer, our stocked glass jars and service will satisfy all needs and desires.
Remains paricularly faithful to ethic using natural material to shape glass jars and meet clients' organic labels and branding, we provide custom glass jar packaging to fulfill your project.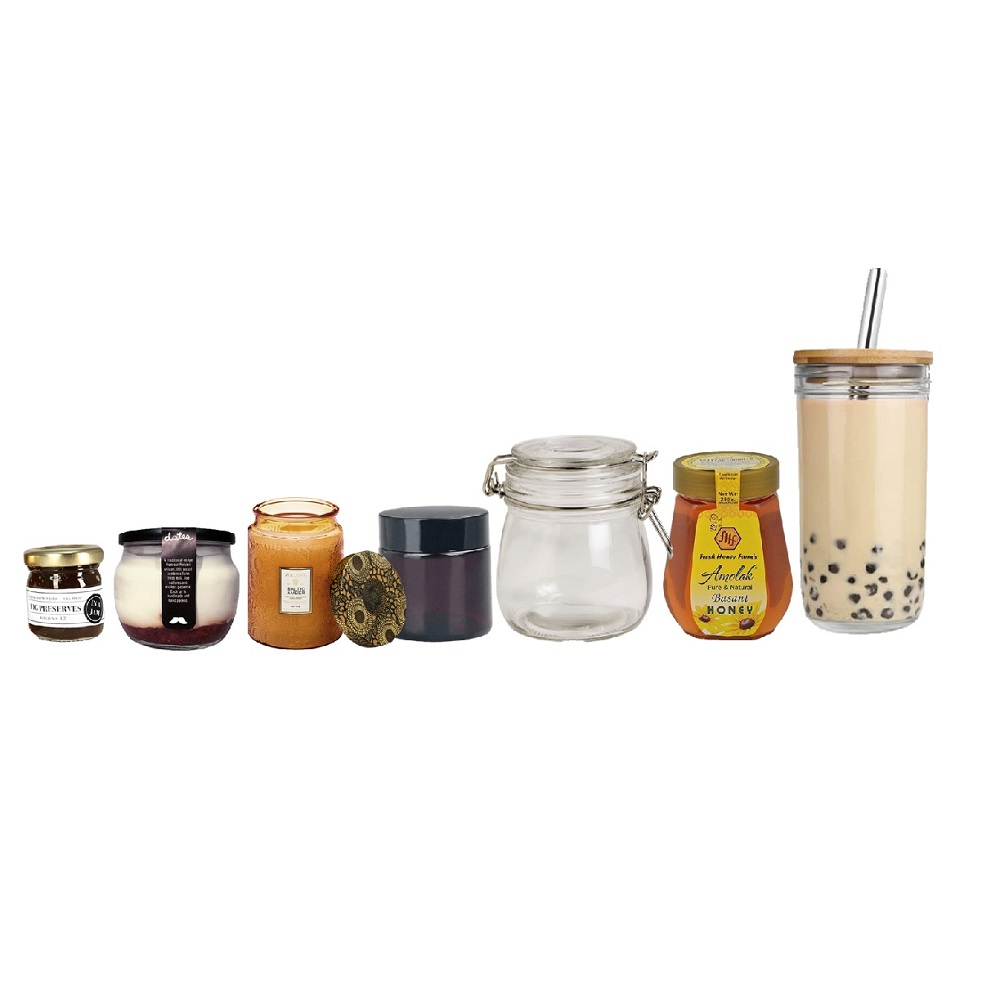 Manufacturing wholesale Glass jars by industries
You can get advantages purchsing jars from glass jar factory. Advanced machinery together with in-house mould making factory can prove fast turn-around production. High effiency and large scaled production will make the unit price lower. High jar quality are committed by inspection toolings and professional co-workers.
jar shape and dimension
20 years jar manufacturer experience, our factory owns huge collection of leak proof packing jars with different shapes round or square, making mason jars and antique custom jars at affordable price giving history and significance to your products.
jar color
Transparent color, amber and black glass jars are the main choices. Clear jars are for food beverage packaging. Full printing jars and colored glass jars are designed for custom candle jars while amber black jars for cosmetic and beauty sectors.
Flexible Package Way
Supplying wholesale glass jars in exporting standard cartons with pallets can get lower damage rate when loading and unloading. For huge quantity large orders with full container's loading use pallets packing.
Jar Lid, cap and closure
We feature various jar closures and accessoies. The top finish includes screwed, cork or bamboo cap with silicone rings. Natural packaging material like glass closure, wooden caps are highlighted year by year to fit organic products branding.
Customize your glass jar from china glass bottle manufacturer
Custom glass jars for coffee beans, coconut oil, bubble tea and liquor winery sector? We will provide custom glass packaging plan with accessories natural wooden cap, bamboo lids and airtight caps.
why design custom made glass jars
An eye-catching glass jar can enlarge your sales and profits. Well-designed glass jars will define your brand. From functionality view, embossed logo, straight sided, big mouth open, unique shaped jars, mini sized jar are designed and developed by mold making.
Custom Made glass jars making process
First step is working with our expert jar designer on glass jar designs and get custom glass jar drawings. Second step is glass jar mold production together with customised jar sample setup. After clients review and approval, final step is mass manufacturing custom jars.
Customise glass jars on shape and decoration
To get a personalised glass jar there are two ways. One is producing custom shaped jar by opening a new mold, which need to invest mold fees. Another is choose decoration methods like silk printing, decal, foil printing, labelling to get unique designed glass jars based on existing shaped glass jars.
Glass jar companies in China
To a professional glass bottle manufacturer, making glass jars is the same process as producing glass bottles. Get durable trendy glass jars on wholesale price, low minimum ordering quantity, custom jar ability and last miniutes delivery is the main benefits working with jar factories.
Glass is safe, giving impression of natural with a high value of the products.
MOQ for custom made jar from 50,000pcs.
A free quote and a free sample is availbale before large or small orders.
Buy custom glass jars design from a real glass bottle manufacturer