Glass Jars are an item that is required for regular use in everyday life. They may be used to store a wide variety of products, including food items, drinks, cosmetics, perfumes, pharmaceuticals, and more.
Glass jars and containers are superior to plastic packaging in terms of both quality and their impact on the environment. As a result, businesses that want sustainable packaging should consider using glass rather than plastic.
Glass jar makers in China have a big client base because glass jars are an ideal packaging solution. This has led to China glass bottle manufacturers having a huge customer base.
Glass jar manufacturers in China contribute significantly to the country's gross domestic product, making this a significant and lucrative sector of the country's economy.
Every year, millions of glass jars are produced, yet only a small fraction of them are put to any kind of use in China.
Therefore, not only do they address packaging challenges in their own nation, but they also spread those answers to other countries in Asia as well as countries outside of Asia.nYou are going to learn how to locate glass jar producers in China.
How to find Chinese glass jar manufacturers
The best and custom glass bottle manufacturer will have the following qualities, so look out for them:
Responsive to your queries
Like any other business, glass jar manufacturers provide excellent service to their clients by replying to their inquiries in less than 12 hours.
This enables the customers to feel free to get in touch with the manufacturer at any time in the event that you have any kind of question about the parameters of your purchase or the delivery of your order. This speaks for the concern of the manufacturer.
Specifications
Go for a manufacturer well-known for its ability to manufacture specialized glass jars according to the specifications provided by its clients. They are able to provide you with a one-of-a-kind design for your glass jars no matter what form, colour, size, or proportions you want them to have.
Fulfil efficient glass jar manufacture
The production of glass jars  has to be carried out in a very effective manner. The finished product excels in all respects, including durability, safety, performance, and catering to your specific requirements.
Customization and options
Glass jars should never fail to amaze you, whether you need them for storing food, beverages, medicines, or anything else. This is true regardless of the use you want to put them to. Custom glass bottle manufacturer will enable you to have options that vibe with your requirement.
Wholesale glass jar price
Go for manufacturers that may get you the most exquisite glass jars that are also sturdy and long-lasting for the lowest wholesale price.
Rapid turnaround times in manufacturing
Many companies take a long time to deliver the china glass jars. However, look for a manufacturer that has rapid turnaround times.
Free glass jar sample
Not a lot of China glass bottle manufacturers will offer free samples. However, the best ones will. Free samples of glass jars may also be sent to you for your inspection and can be picked up whenever it is most convenient for you.
Low minimum quantity
When you place an order for China glass jars, you shouldn't have to worry about being required to buy an excessively large minimum number. Hence, go for a manufacturer that give you the liberty to choose as many numbers as you require.
Glass jar Maker Resources through sourcing agents
It is advised that you work with a sourcing agency in order to save yourself a significant amount of time and effort while searching for manufacturers online.
If you have the correct sourcing agent, you will have an easy time gaining access to its manufacturing base, which has hundreds of manufacturers of glass jar makers.
A local sourcing agent will not only be able to locate the appropriate manufacturers and products, but they will also be able to examine facilities directly on your behalf. In addition to this, sourcing agents will also handle any issues that arise with regard to delivery.
When it comes to transporting something as delicate as glass jars, having a trustworthy business associate is more than just vital.
Additionally, other key operations like quality inspection, local logistics, and international shipment, as well as dealing with customs charges, are all able to be handled by the service range offered by sourcing agencies.
Finding Glass Jar Manufacturers in China Wholesale Markets
Visit China and look for appropriate China glass bottle manufacturers in the local wholesale markets or trade fairs if you are a person who has a strong power of execution and likes to do things in a way that is more directed and efficient.
Choose the best custom glass bottle manufacturer to help you in your endeavor.
Within the confines of the wholesale market, there are hundreds of stores where thousands of different kinds of glass jars may be found exhibited.
Many of those tiny stores really have their own manufacturing someplace else and only rent a storefront to demonstrate some of the product samples they have available.
In addition to visiting wholesale marketplaces, attending trade exhibits and fairs may be another extremely effective choice for the purpose of locating an appropriate manufacturer.
If one were to speak of trade fairs in China, the Canton Fair, which is the largest and one of the most prominent international trade fairs in China, would be the one that would receive the highest recommendation.
The Canton Fair takes place twice a year at regular intervals. The Spring session often takes place between the end of April and the beginning of May, while the Fall session is typically conducted between the end of October and the beginning of November.
In addition, each session of the Canton Fair is broken up into three distinct parts, and there will be a pause of between three and four days between each phase.
To choose the perfect glass jar maker, it could be a good idea to base your trip planning in China on this timetable.
Reasons Your business should Consider Glass jars and Containers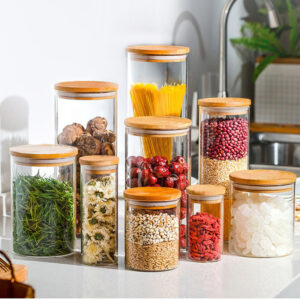 Glass is reusable
Because the life of the majority of plastic packaging is over very quickly after the product is used or consumed, you should give serious consideration to incorporating reusable glass packaging into your business strategy.
Investing in glass jars and containers is a sensible solution because they can be securely recycled several times after being cleaned in the most fundamental of ways.
Many companies are beginning to create bottle return programs and some even give an incentive to customers who participate in the program.
There are several glass firms out there, and most of them have a variety of stock designs from which you may choose to bring your brand to life.
If you want to take your packaging to the next level, you may get custom molds made for it; however, doing so entails purchasing a big number, which can represent a major expenditure on its own.
Eliminate pollutants while preserving the flavor
The United States Food and Drug Administration recognizes glass as a "GRAS" (Generally Recognized As Safe) material, making it a viable alternative for the packaging of food and beverages (FDA).
Because it provides instructional material, databases, and lists pertaining to food allergies, ingredients, food and color additives, and GRAS chemicals, the Food and Drug Administration (FDA) is a helpful resource for the packaging industry.
Glass does not contain any dangerous compounds, which means that none of those chemicals will be leached into the food or drink product that you are consuming.
Glass is a non-porous material, which means that if it is properly sterilized, your product will not lose any of its flavor or taste even after being stored in it. Keep in mind that a high-quality product will bring in a high-quality consumer who is prepared to spend a premium on that thing.
Aesthetic of High Quality
Glass not only has a high-end look and feel, but it also looks nice. When compared to the typical packaging made of plastics and cardboard, there is little question that glass packaging stands out from the crowd.
The notion that your product as a whole is of better quality than that of your rivals is directly proportional to the level of quality of the packaging that it comes in. This is the reason why China glass bottle manufacturers pay attention to it.
Not only does the fact that your product is packaged in glass make it stand out on a shelf next to its rivals, but it will also appeal to customers who are concerned about design and the environment.
It is essential to be able to differentiate yourself in marketing, and Traders Point Creamery has done an outstanding job of utilizing the quality aesthetic of their product for their digital marketing.
They have managed to captivate their followers with stunning photography, interesting recipe ideas, and life around the farm, restaurant, and creamery.
They show the items being used frequently on their Instagram feed, but they also include images of the products in their packaging as part of their content. As a result, they encourage their audience, consumers, and partners to do the same.