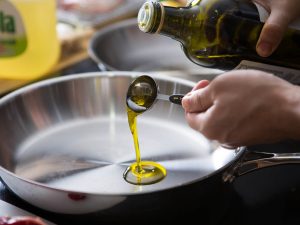 The Definition of Olive oil
Olive oil is a liquid fat obtained from olives (the fruit of Olea europaea; family Oleaceae), a traditional tree crop of the Mediterranean Basin, produced by pressing whole olives and extracting the oil. It is commonly used in cooking, for frying foods or as a salad dressing. It is also used in cosmetics, pharmaceuticals, and soaps, and as a fuel for traditional oil lamps, and has additional uses in some religions. The olive is one of three core food plants in Mediterranean cuisine; the other two are wheat and grapes. Olive trees have been grown around the Mediterranean since the 8th millennium BC. The top five producers of olive oil by volume  are Spain, Italy, Tunisia, Greece and Turkey. Per capita consumption is highest in Greece, followed by Italy and Spain.
Generally speaking, "olive oil" is simply the oil that is obtained from the fruit of olive trees. From itself word "Olive oil" sounds simple and straight forward. But there are different varieties of olive oil that are set apart not by the type of olive that is used, but the process used to extract the oil, as well as by the additives, and the oil's level of free oleic acid. The composition of olive oil varies with the cultivar, altitude, time of harvest and extraction process. It consists mainly of oleic acid (up to 83%), with smaller amounts of other fatty acids including linoleic acid (up to 21%) and palmitic acid (up to 20%). Extra virgin olive oil is required to have no more than 0.8% free acidity and is considered to have favorable flavor characteristics.
How Olive Oil Is Graded
Looking at those brands of olive oil and extra-virgin olive oil side by side, you can see that the extra-virgin olive oil has a noticeably darker color, while the regular olive oil has a lighter, brighter color.
This color differential, however, varies from brand to brand, and it is deceptive. You cannot use color to reliably tell two grades of oil apart. Olive oils can vary drastically in taste and quality, and color is only one factor and not the distinguishing one.
Olive oil is graded by its level of acidity, or free oleic acid. The amount of free oleic acid in olive oil indicates the extent to which fat has broken down into fatty acids.
Refined vs. Unrefined Olive Oil
Olive oil also falls into two distinct categories: refined and unrefined. While unrefined oils are pure and untreated, refined oil is treated to remove flaws from the oil, making it more sellable.
Richard Gawel is an olive oil expert and long-time appointee as Presiding Judge in various major olive oil shows. On the difference of refined and unrefined oils he says, "Refined oils have little or no olive aroma, flavour, or colour (what they have gets there via blending in few percent of an extra-virgin oil). They also have no bitterness."
In contrast to unrefined extra-virgin olive oil, refined oils "lack the important antioxidants and anti-inflammatories that make extra-virgin oil so special."
Extra-Virgin Olive Oil
Extra-virgin olive oil is an unrefined oil and the highest-quality olive oil you can buy. There are very specific standards oil must meet to receive the label "extra-virgin." Because of the way extra-virgin olive oil is made, it retains more true olive taste, and has a lower level of oleic acid than other olive oil varieties. It also contains more of the natural vitamins and minerals found in olives.
Extra-virgin olive oil is considered an unrefined oil since it's not treated with chemicals or altered by temperature. What sets it apart is the low level of oleic acid and the absence of sensory flaws. It contains no more than 1% oleic acid and typically has a golden-green color, with a distinct flavor and a light peppery finish.
While you can cook with extra-virgin olive oil, it does have a lower smoke point than many other oils, which means it burns at a lower temperature. Save the pricey good quality stuff for dipping bread, dressing, dips, cold dishes, and use the less expensive stuff for cooking and baking.
Pure Olive Oil
You may also recognize oil labeled as simply olive oil or pure olive oil — this is what we should consider "regular" olive oil. This oil is typically a blend of virgin olive oil and refined olive oil. Pure olive oil is a lower-quality oil than extra-virgin or virgin olive oil, with a lighter color, more neutral flavor, and oleic acid measuring between 3-4%. This type of olive oil is an all-purpose cooking oil.
Light Olive Oil
This is the type of olive oil where the name may spark some confusion. "Light" does not refer to this olive oil being lower in calories. Rather, it is a marketing term used to describe the oil's lighter flavor.
Light olive oil is a refined oil that has a neutral taste and a higher smoke point. It can be used for baking, sautéing, grilling, and frying.
What makes for high quality?
In the international market, some Olive oil producers are now adding processed olive oil, which is treated with artificial additives to mask discrepancies or add flavors and colors to low-cost vegetable oil to make it look like olive oil, and then sell it as "extra-virgin olive oil". So, it is important to know what makes for high quality. Authentic extra-virgin olive oil can vary significantly in look and taste, depending on the olives used and the process method used, and whether the olives used are early harvest or ripe, but generally, pure extra virgin olive oil will have a fresh, fragrant, somewhat fruity, bitter, sometimes grassy, or herbal smell and flavor. Olive oil of the best quality comes from companies that harvest, press and package in the same area. The longer the time between the harvest and pressing, the lower the quality of the olive oil.
Top 5 Olive Oil Producing Destinations
The following are the best regions to source high-quality olive oil according to the 2019 EVOO ranking.
Italy
Despite the scandals and alleged frauds that make headlines on international news, Italy is home to many excellent and honest producers that gift the world with high-quality Italian olive oil that is universally recognized as world-class in international quality competitions. But what makes Italian olive oil so outstanding?
The main distinguishing feature of Italian extra virgin olive oil plays in the country's diversity in its Olives. Italy is home to over 350 different olive varieties, each of them with a unique and specific flavor and attributes. Italian oil experts then decide whether it is best to enhance each variety's characteristics in single-cultivar oils or if they should harmonize them to form superior blends.
The cultivation of olive trees and the production of oil in Italy remain in the hands of independent farmers as opposed to big money hungry companies. The farmers also practice traditional farming methods that date back centuries.
Some of the best Italian Olive oil brands include Origini, Organic Allegretti Extra virgin Italian olive, Lucini Organic Premium Select Extra Virgin Olive Oil, and Entimio Audace Italiano.
Spain 
Olive oil production in Spain back to the second millennium B.C. Archaeological discoveries show that Andalusia region was the major olive oil producer for the ancient Roman Empire.
Almost every region in the country makes olive oil, but much of it comes from the south of Spain. Jaén, in northeastern Andalusia, produces more than 40 per cent of the olive oil in Spain and about 20 per cent of global export. Spain cultivates a variety of olive cultivars, but the most common varieties are Arbequina, Picual, Hojiblanca, and Cornicabra.
The olives go from the harvest trucks to the processing mill, where they are transformed into olive oil, then packed into the bottles in a matter of only a few hours. The state-of-the-art system that is used to produce the best oil possible includes carefully controlled temperatures and three-phase centrifugal decanters.
Some of the best Olive Oil from Spain includes Finca Badenes, EVOO Early Harvest, Finca La Torre Hojiblancaand Olivar Santamaria
Greece
Olive oil has been part of Greek history since antiquity and regarded as an essential and irreplaceable nutritional component of the Greek diet. Today, Greek olive oil is considered to be the best in the world because its extra virgin olive oil (EVOO) comprises at least 80 per cent of the overall olive oil which is considerably higher than Italy which is approximately 67 per cent and Spain which is around 34 per cent.
Greece has hundreds of olive varieties and types, usually named after the areas in which they are grown. Some of the best ranked olive oils include Mediterrane Alea Organic, Agourelaio Organic EVOO, Ktima Louiza Koroneiki Premium Organic, and Liokareas Early Harvest.
Portugal 
Portugal is quickly gaining a reputation for producing a wide range of high-quality and full-flavored organic olive oils, much of which turns out to be fresh and fruity with a delicious flavor and sophisticated taste. Many of Portugal's olive groves are more than a hundred years old, with some individual trees found to be well over one thousand years old. Latest production methods and technology have reduced harvesting of more recently planted groves to three to seven years compared to more than ten to twenty years which was how long it took in the past.
Ideally, olives are gathered when the color begins turning from green to black, and the texture's smooth, but they not quite fully ripe. They are then dried in the shade for up to three days. The dry olives are then pressed lightly to yield oil of the highest quality (unpurified and known as 'extra virgin olive oil') and then pressed heavily to produce oil in far more significant quantities.
The best Olive Oil from Portugal includes Gallo Reserva Olive Oil, Cabeço das Nogueiras Premium Olive Oil. andOliveira da Serra Gourmet.
USA
The USA has been producing olive oil for more than 150 years now, yielding about 5 per cent of all the olive oil consumed in the country each year. It is also the largest consuming market of olive oil outside Europe. Olive oil in the USA is produced mainly in Arizona, California, Florida, Georgia, Hawaii, Texas and Oregon.
Some of the best olive oils produced in the USA include Mcevoy Ranch Limited Edition, Vervana Organic Extra Virgin Olive Oil (EVOO), Gunrock Extra Virgin Olive Oil and Wolfskill Reserve Olive Oil
The best way to package Olive oil 
Since Olive oil is valuable and rare cooking oil also the quality is based on the time between the harvest and the pressing, it is important to choose a suitable container. Glass bottle in dark color is considered the best way to package Olive oil.
Please visit our Olive oil glass bottles.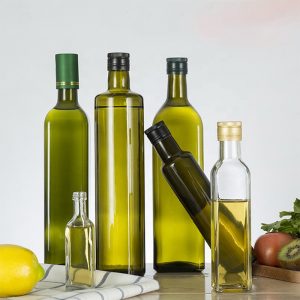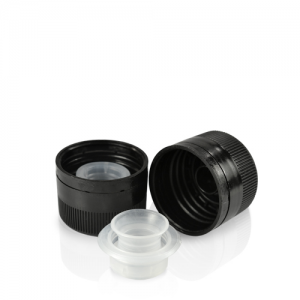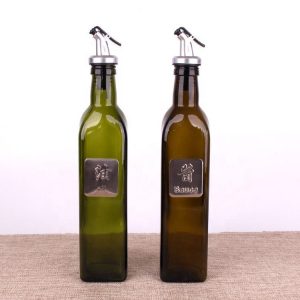 In Conclusion
MC Glass Product Company not only a reliable glass bottle manufacturer based in China, also supply custom glass bottle to delivery brand power for clients. We are Olive oil glass bottle wholesales.