MC Glass has become high-end custom glass bottle manufacturer for many liquor brands. We has been cooperating with small batch distillery design, manufacture and decorate fancy liquor bottles by developing new model, printing, texture and also provide cork and glass material closure.
Glass is more than sand, lime, soda, blowing, and extreme heat by shaping raw materials through metal molds. Glass is all about a piece of art shading and aging.
Personalization, thick base, decorative features, punt shape,   glass skin, embossing, sandblasting and ink screen printing have been signing brand identities through original design solutions and customization of bottles.
A bottle is a work of art. From design to structural qualities, MC Glass provide a wide variety premium glass making features to choose from. The new trends are shared:
Personalization:
Distiller owners are willing to invest new mould for fully custom bottles. Extra white glass color, side seams, brilliant closure are all attributes of aesthetics glass bottle.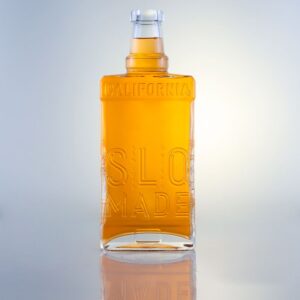 Large vertical embossed logo express the brand's authenticity.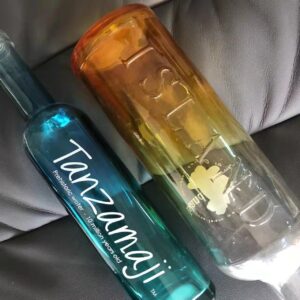 Packaging is a part of consumer experience while glass bottle packaging is the brand experience. The super size logo no matter printing or embossed on the molds communicating consumers' touch feeling or eye-catching feel. Cusomers will recognize branding first sight.
Glass bottle Shapes:
Brands are choosing intricate shapes and exceptional closures to ensure the unique branding elements are incorporated into custom glass bottles.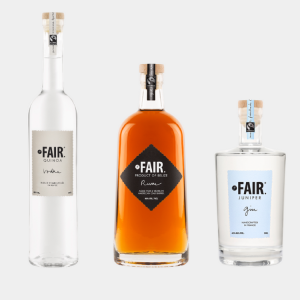 Innovation is more essential than ever. Liquor and whiskey packaging is more than just a glass bottle and stopper. It is a project of collaboration from designers, 3D printers, mold factory, glass material providers, unique bottle manufacturer and bottling company.
Glass bottle color:
Printed bottle with ink screen on existing template liquor bottle, the minimum purchase quantity is 2000 pieces. Product samples are requested in advance.
The degree of translucency is essential when choosing the colors from custom glass bottle. The color is not only aesthetic appeal, it is also protection the contents from sunlight avoiding vitamin loss, taste changing or reducing the shelf life of the products.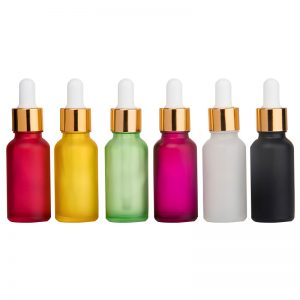 Diversified colors reflects a series of favor or flavor of content beverage and products. Flavored wine, whiskey with different fruit, wide range of fragrance are designed in winery liquor bottles, essential oil bottles, candle jars and whiskey bottles.
Glass weight: punt base are used to an indication that glass was well made. It is also thought that punt added to the bottle's structural integrity. A deep punt is just another way to attract customer's attention, and the feather with aforementioned heavy, expensive glass.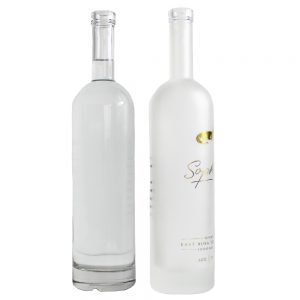 Thicker glass make a bottle stronger and thicker glass is expensive. The purpose is also add to gravitas and a touch of luxury.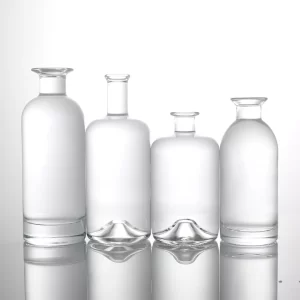 Glass bottle design company need to work in a holistic way, creating brands being inspired by different categories such as architecture, fashion, art, graphic elements and textures. More heavy glass material, more flint color delivey more luxury image.
Custom decoration:
The decoration processes are embracing, ink screen printing, coating, acid-etching, metallization and sandblasting. MC Glass offer customised decoration project satisfying small batch crafted bottles request. Wholesale liquor bottles trend selected from different volumes, colors and closures.
MC Glass proceed sophisticated decoration using complextiy of techniques like acid-etching finish, multuple color screen printing, golden or silver hot stamping that fit together.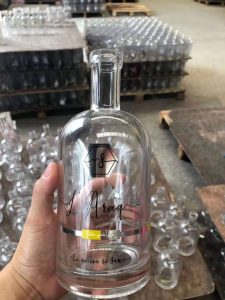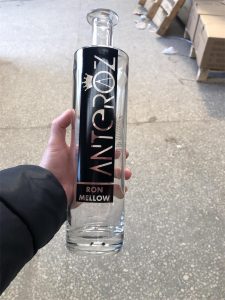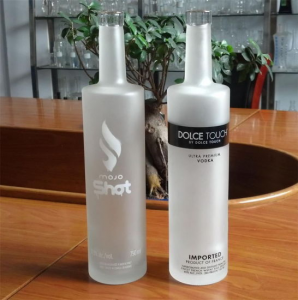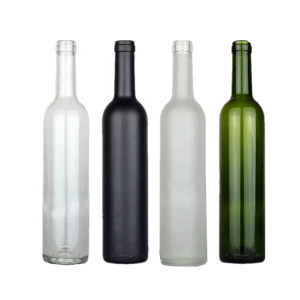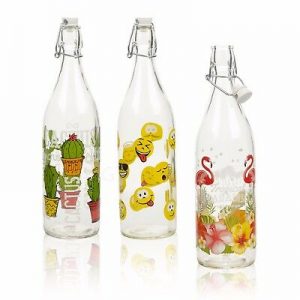 Classic liquor bottles:
Oslo bottles is round with a large area wrapping around the whole body of the bottle. That bottle shape supports 360 degree silk screen printing method. The ink printing is durable, scratch resistant in an elegant way.
Oslo glass characteristics are modernity and simplicility. The clean body like Boston Round surface can be adapted to any kind of customization.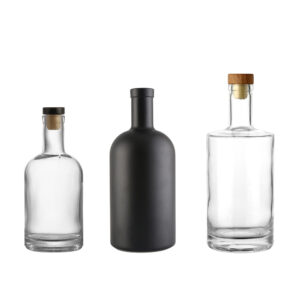 Blue whiskey bottles
750ml swing to bottles and 1 liter swing top bottles with blue coating white label printing is MC Glass decoration project.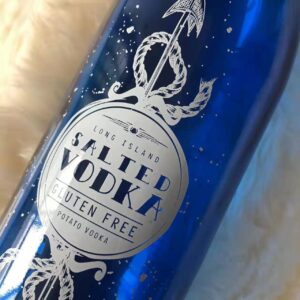 The future of packaging is sustainable. It is convinced glass packaging must be not only beautiful, but also useful and eco-responsible. Changeable swing top closure make the bottle refillable and reusable. The swing top design is easy to open that can be refilled endlessly. Blue coating with large logo communicating branding and can be party of home decoration bottle after drinking.
Customizable packaging emphasizing a ritualized and individualized approach to liquor. Using of flint crystal materials and special techniques push the boundaries and create meaningful packs protecting the contents, communication target customers and storytelling.
Clients at Long Island Salted Spirits believe in making every drink as flavorful as possible. Every element of the bottle design is connected to the "Long Island Salted Vodka", attracting customers in to the story of the liquor brand.
The dark blue colored bottles are inspired by the color of Long Island sea. As we all know that ocean is full of mysteries, salted vodka liquor in dark blue color will give customers a mysterious feeling, a distinct flavor and enjoy the peace of ocean. While the white text printing color on the blue bottle is inspired by the color of sea salt.
The vodka is distilled 10 times from potatoes, the front design is a an anchor with twining rope. Around the central anchor, countless white dots mean sea salt in the liquor. The design details convey the essence of vodka spirits that is salted your cocktail and you will enjoy an elevated flavors to the next level.
New Trends
Glass bottle packaging has multiple essential functions protecting, transporting, communicating and storytelling together with minizing environmental impact. The future cusom glass bottles are a piece of art while refillable and reusable. During shaping, manufacturing, decoration and logistic processes with less environmental footprint.